External Account Transfer Setup
As of Monday, March 13 any external accounts added into TriSummit Bank's external funds transfer service, FI-to-FI, will need to be manually added into our service, External Account Transfer. If you had scheduled any recurring external transfers or any future-dated external transfers, they will need to be rescheduled as well.
If you have any difficulty adding an external account, please contact our Customer Care Center via the form located at the bottom of this page, phone, chat, or secure message in Online Banking.
Business Connect Users
If you are a business with an EIN, you will log into Business Connect as of Monday, March 13. Our External Account Transfer service is unavailable in Business Connect; however, we do offer Treasury Management services such as ACH, Wire, and Remote Deposit, which can all be managed from within the Business Connect service. Please visit your nearest branch or contact your relationship manager for details on enrolling in any of these services.
Scheduling Transfers
Once you have successfully added and verified your external account(s), you are now ready to schedule external transfers. Within our External Account Transfer system, you can schedule one-time or recurring transfers with three-day and next-day delivery speeds. Please be sure you have added your external account before attempting to schedule transfers.
Adding an External Account
1) Select Transfers to access the transfers page

2) Click on the link External Account Transfer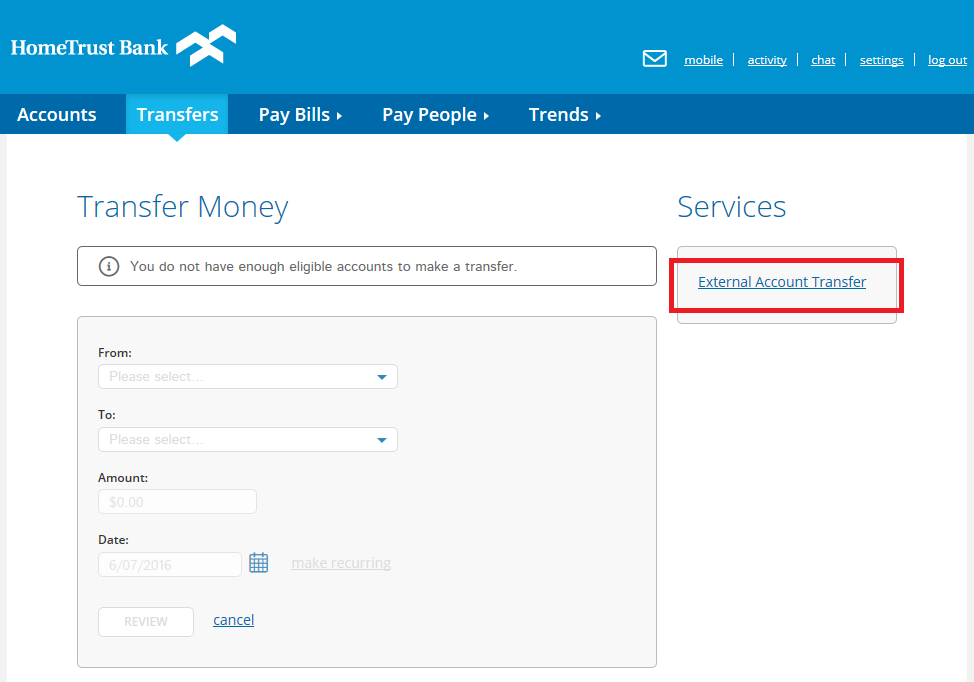 3) Select Add a New Account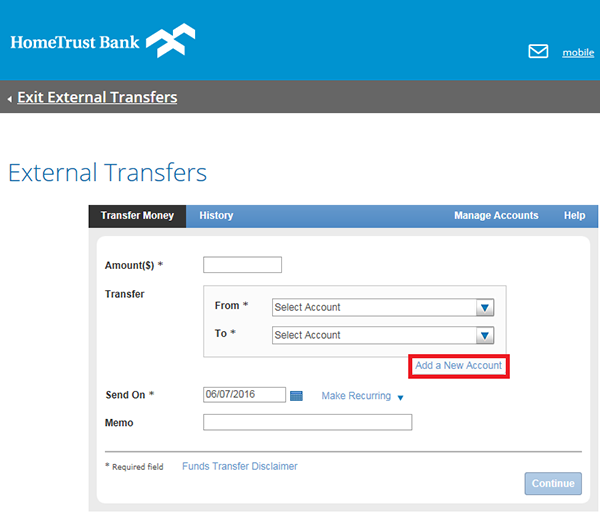 4) Select the Account Type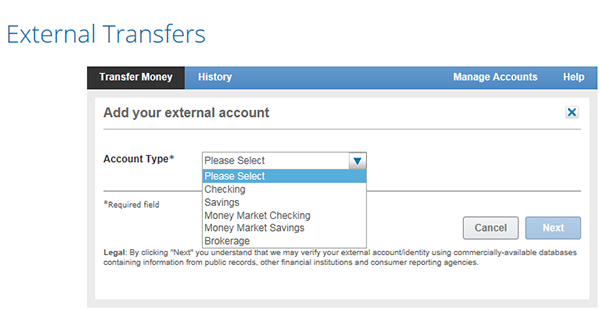 5) Account and Routing Numbers
Once you have selected the Account Type, enter your external account's Account Number and Routing Number from the outside financial institution and click Next.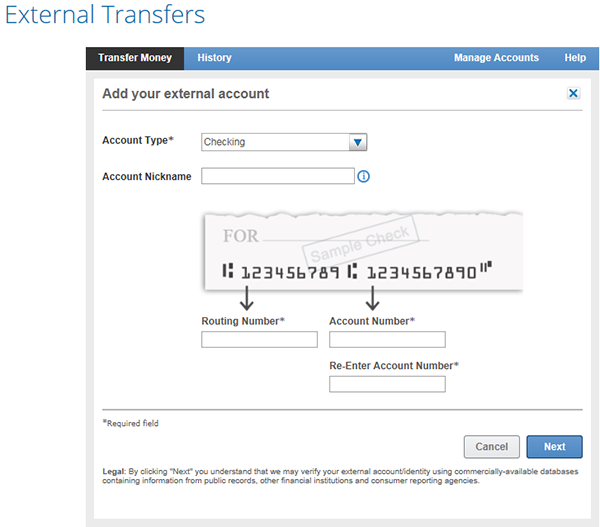 6) Two ways to Verify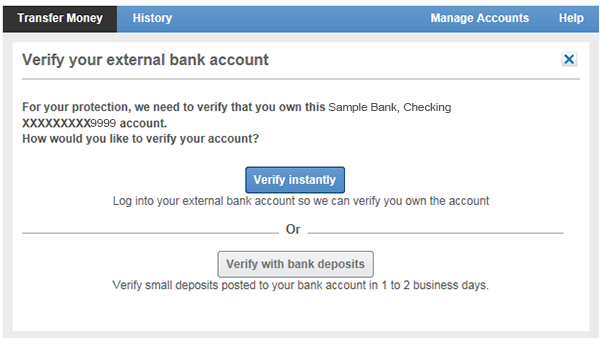 To verify instantly, you must have an online banking profile with the outside financial institution. After clicking Verify Instantly, enter your online banking login credentials with the outside financial institution and click Verify.
NOTE:  Depending on your outside financial institution's security settings, this method may not function. If you are unsuccessful with this method, please verify with bank deposits. You can navigate back by clicking Back to verification options underneath the login area.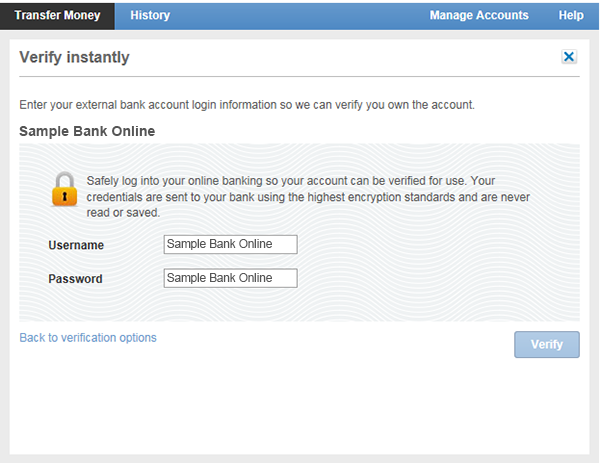 Once you have successfully verified instantly, you will be able to transfer money in and out of your external account!

Upon clicking the Verify with Bank Deposits button, you will receive the following message, informing you that your two (2) trial bank deposits will arrive in the external account within 1-2 business days.  Click Done.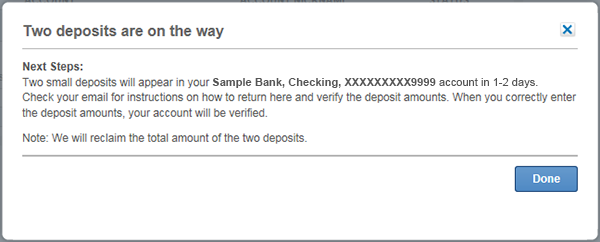 Once you have received your trial deposits, you will need to log back into Personal Online Banking and navigate back to External Account Transfer.  Once inside External Account Transfer, click Manage Accounts.
Click the blue Verify link in the far right column.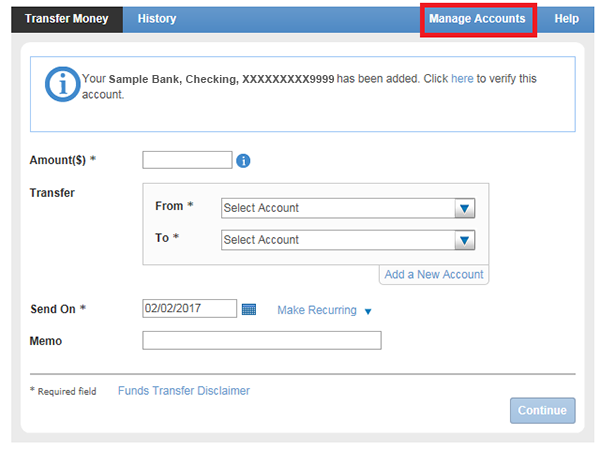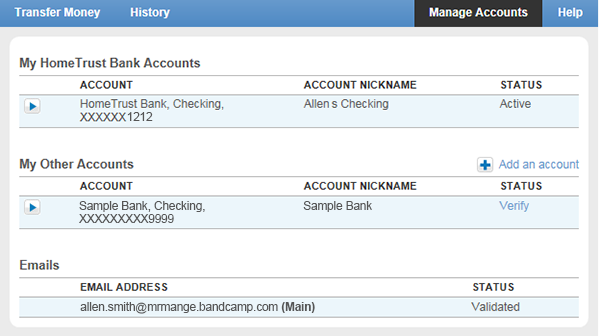 You will be required to enter the trial deposit amounts on the next screen.  Once completed, click Verify.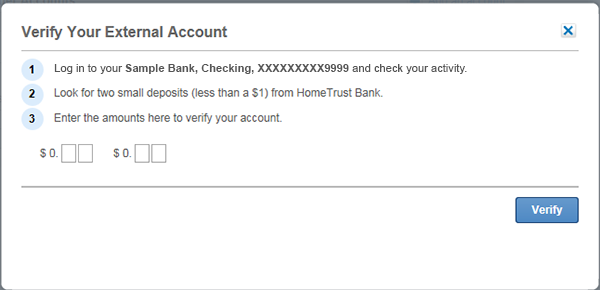 Once the trial deposits have been entered correctly, you will receive a message indicating that your external account has been added!

Questions?
Submit your questions through our secure form and a HomeTrust Bank Customer Care team member will contact you within one business day. You may also call our Customer Care team at 800.627.1632. Customer Care is available:
Monday – Friday, 8:00 a.m. to 7:00 p.m.
Saturday, 9:00 a.m. to 3:00 p.m.
We look forward to serving you!
Please do not submit any sensitive information, such as account numbers, credit or debit card numbers, social security numbers, or passwords on this form.