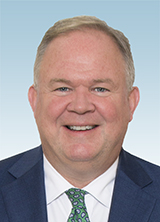 Charlotte, NC—Thomas A. Bennett, Jr. has joined HomeTrust Bank as a Senior Vice President and Commercial Relationship Manger at the bank's Charlotte office at 100 Queens Road. He is focused on commercial and industrial business, working with several industry sectors and nonprofits. As a Certified Treasury Professional (CTP), he also works with Charlotte area businesses that the bank serves to improve efficiencies in cash flows.
"I'm delighted to be a part of a true community bank solution to the Charlotte market," said Bennett. "I look forward to helping HomeTrust grow and meeting the needs of our greater Charlotte area business customers in areas such as credit, depository services, and treasury."
Bennett has more than three decades of banking experience in North Carolina. Prior to HomeTrust Bank, he worked at Capital Bank/First Tennessee as a Senior Commercial Relationship Manager. Before that he was a Vice President with BB&T in Greenville, NC.
A graduate of UNC-Chapel Hill, he majored in political science. Bennett graduated from the NC School of Banking in 1992 and earned his designation of Certified Treasury Professional from the Association of Financial Professionals in 1997.
Bennett is happily married with two college-aged children. He enjoys giving back to his community and has volunteered with several Chamber of Commerce organizations, United Way, Rotary Clubs, NC Treasury Management Association, and other civic groups. He is also a past Vestry member with All Saints Episcopal Church in Concord, NC.
"Tom's depth of experience and proven skills as a CTP make him an exceptional choice to help us provide great customer experiences that lead to long-term relationships," said Jeff Mylton, Charlotte Market President, HomeTrust Bank. "We are excited to have him join our team."