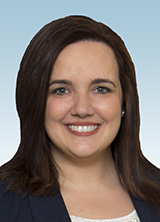 Eden, NC—Tara P. Fargis has joined HomeTrust Bank as a Banking Officer and Associate Branch Manager at the bank's Eden, NC office. She is responsible for encouraging and promoting branch performance, building new community relationships, and managing branch employees.
"I love the community feel at HomeTrust and am excited to be here as they are growing," said Fargis. "I grew up in Eden and am raising my children here, so I'm invested in our city's success, and I can see that HomeTrust is as committed to that success as I am."
Fargis has more than a decade of banking experience. Prior to HomeTrust Bank, she worked at First Citizens Bank and Trust. Her most recent position was a Service Manager.
Fargis is happily married with two sons. She is a dedicated and active volunteer for many organizations, including United Way of Rockingham County where she serves as VP of Communications and is on the Executive Board of Directors. She also serves on Eden Rotary Club, Chamber of Commerce, and Rockingham Health Care Foundation, and participates in several other volunteer efforts locally.
"We feel so fortunate that Tara has joined us at our Eden location," said Bridget French, Vice President and Retail Market Leader, HomeTrust Bank. "Her skills as a banker and as a relationship builder for the long term reflect HomeTrust's core values."