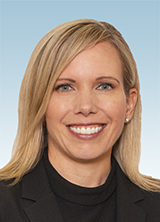 Asheville, NC—Stephanie Barbier has joined HomeTrust Bank as a Senior Vice President and Director of Treasury Services. She holds responsibility for the company's treasury management strategic direction to include business development and retention. She is also responsible for product development and delivery along with operational risk management and execution.
"I am delighted to join the HomeTrust team. The Bank's infectious enthusiasm and obvious care for their team and clients inspires me, along with the institutional approach and plans for future growth," says Barbier.
Barbier brings more than two decades of banking experience to her new position. Prior to HomeTrust, she led the Carolinas Commercial team of Wells Fargo that was responsible for retaining and growing the treasury management portfolio in the region. Before that she was a treasury management sales consultant for business banking and commercial banking.
"Stephanie's depth of experience in leading treasury management services and wholesale banking divisions coupled with her warm and gracious style provide HomeTrust the opportunity to further enhance our customer experience," says Mark DeMarcus, Executive Vice President, Commercial Banking Group Executive. "I look forward to collaborating with Stephanie as we guide HomeTrust to the next level of treasury services and top-of-class commercial banking solutions.
Barbier will work from HomeTrust's downtown Asheville location with a secondary location at the Queens Road branch in Charlotte. She graduated from UNC Charlotte with a BS in psychology. Barbier is married with two children and lives in Denver, NC. She is an avid runner, mountain biker, and loves being outdoors.