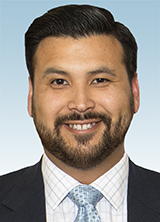 Johnson City, TN – HomeTrust Bank has announced the appointment of Roberto Aramburu to Assistant Vice President and Branch Manager of the Med Tech Parkway location here.
"We're excited to have Roberto join our HomeTrust Banking team," said Tom Goins, Executive Vice President and Consumer Banking Executive. "He has five years of banking experience, working his way up from part time teller to management. He is a great addition to our staff."
As branch manager, Aramburu will strengthen current customer relationships, develop new customer relationships, and coach and develop branch personnel.