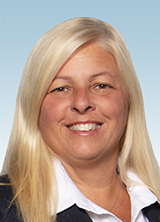 Asheville, NC—Patty Mulvey recently joined HomeTrust Bank as Senior Vice President and Senior Commercial Credit Department Manager. She holds responsibility for leading the commercial credit department team, developing commercial credit department process and procedures, and fostering continued high levels of customer satisfaction, and employee engagement. She also holds responsibility for developing strong internal partnerships with senior leadership, credit risk, and commercial lines of business.
"From my first interaction with HomeTrust I was taken by the genuineness of the people and the incredible culture," says Mulvey. "HomeTrust combines the best of a hometown community bank with the scale, market expertise and credit solutions of any larger institution. Every person on the team is passionate about what they do and committed to making a difference. It's a wonderful place to call home."
Mulvey was Director of Commercial Credit Services and Chief Operating Officer at Amplifi, LLC in Greensboro, NC prior to her new job at HomeTrust Bank. Before Amplifi, she was with SunTrust Bank as Vice President and Senior Middle Market Commercial Portfolio Manager, where she earned awards for executional excellence and profitable growth.
"Patty's expertise in commercial credit management and her passion for customer service will further enhance our abilities to effectively help our customers grow in a sustainable manner," says Keith Houghton, Chief Credit Officer. "I look forward to working with her as our team offers the optimal customer experience and the best products available."
Mulvey graduated from Rutgers University in New Brunswick, NJ with a degree in economics. She has three talented grown children, a daughter and two sons. She loves the beach and the mountains, enjoys hiking and traveling, and is an avid reader.