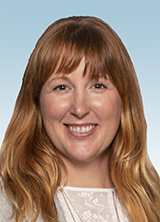 Asheville, NC—Megan Hembree Morlok recently joined HomeTrust Bank as an Assistant Vice President, Marketing Manager. She holds responsibility for building marketing campaigns to increase customer awareness and adoption of HomeTrust products. She also leads marketing initiatives including marketing campaign development, execution, media buys, and regional product-specific campaigns.
"Discovering what drives a customer and building a campaign around that need is my passion. I love that HomeTrust is customer-focused and look forward to working with a phenomenal team to continue growing the HomeTrust brand in all our markets," says Morlok.
Morlok's marketing experience is deep and her previous positions include global marketing communications manager at Thermo Fisher Scientific and director of client services at Market Connections in Asheville prior to coming to HomeTrust.
"Megan's talent and dedication for data-driven marketing and her considerable expertise in leading highly targeted marketing campaigns will help HomeTrust and our customers continue to be ready for what's next," says Elizabeth Bridgers, Senior Vice President, Director of Marketing and PR. "Megan will be primarily responsible for campaigns for consumers, everything from checking accounts to mortgages. I look forward to working closely with her to continue to build relationships with both new and existing customers in Asheville and across our footprint."
Morlok graduated from Meredith College in Raleigh, NC with a BA in Human & Mass Communication. She is married and has two daughters, is an avid reader, vinyl collector and music enthusiast, and enjoys playing tennis. When she's not working, Morlok is a volunteer at Ira B. Jones elementary school. She attends First Presbyterian Church of Asheville, where she was a deacon and past board member of the church's childcare center.