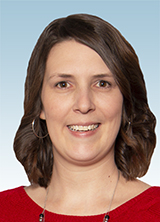 Waynesville, NC—Kristina Bryan recently joined HomeTrust Bank as an Assistant Vice President and Branch Manager in Waynesville. She holds responsibility for managing day-to-day operations of the branch office, expanding business services to help serve customer needs, cultivating community outreach, and promoting the HomeTrust brand in the community.
"I'm so excited to be joining the HomeTrust family," says Bryan. "I look forward to using my skills and abilities to help coach and develop the Waynesville team while growing business development for the branch."
Bryan has more than a decade of banking experience. Previously, she was a PNC Bank branch manager and business center manager in Asheville. Before that, Bryan worked at Wells Fargo as branch manager in Greenville, NC, coaching and developing the branch team there in sales, service, and operations.
"Kristina's strong leadership and coaching skills are a huge asset to the Waynesville team as we continue to focus on ways to serve our customers and community better," says Bria Davis, Vice President & Retail Market Leader. "I look forward to working closely with her as she helps customers in our community plan for and achieve their goals for financial success."
Bryan is married and has one daughter. When she's not working, she enjoys cooking, baking, and spending time with her family.