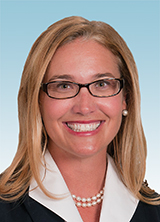 ASHEVILLE, NC — Kristin Y. Powell is promoted to Executive Vice President of Mortgage Lending at HomeTrust Bank (HTB) effective March 1. In her new role, Powell will be responsible for mortgage sales, fulfillment and underwriting across all HomeTrust locations in four states. Powell is based in the bank's Charlotte location at 100 Queens Road.
Powell has 20 years of banking and mortgage experience, and has been focused on the overall strategy of the Mortgage division including leadership of HomeTrust's sales team for almost four years. During that time, Powell has been instrumental in building out a strong team of dedicated mortgage loan officers across the bank's footprint.
"Kristin provides a wealth of knowledge to HomeTrust and has been critical in re-engineering our mortgage sales platform," says Hunter Westbrook, Senior Executive Vice President & Chief Operating Officer. "In her expanded role, she will strategically couple the mortgage division's customer centric model with the digital transformations occurring in financial services. I am deeply appreciative of the contributions she has made thus far and look forward to working with her on further customer enhancements under her leadership."
Powell is a graduate of Meredith College with a Bachelor of Science in Business Administration and Management. Prior to joining HomeTrust Bank, Powell served in a variety of mortgage leadership and strategic positions at banks including PNC, RBC, and Bank of America.