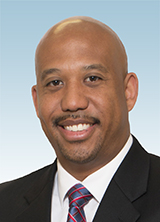 ASHEVILLE, NC – Ken Royal has joined HomeTrust Bank as Senior Vice President and Chief Technology Officer.  In his new role, Mr. Royal is responsible for aligning all IT activities with the bank's strategic goals, analyzing industry trends and emerging technologies, and prioritizing technology initiatives.
Mr. Royal has an extensive background in software development, business process optimization, infrastructure support, implementation of complex solutions, and consulting in the banking and credit union industry. In addition, he has held leadership roles in several project management organizations as well as in strategic operations at Fiserv.
"As HomeTrust continues our transformation towards becoming a high performing regional community bank, we are committed to recruiting talented leaders like Ken with a proven track record of leading organizations to the next level," says Marty Caywood, Executive Vice President and Chief Information Officer.  "After years of collaborating with Ken as an external partner, I am delighted he now brings his superior project management and leadership skills to HomeTrust as an employee."
Prior to joining HomeTrust Bank, Mr. Royal held strategic leadership roles in companies such as Fiserv, Harland-Clarke, JP Morgan Chase, and Grow Financial Credit Union. Mr. Royal and his family have relocated to Asheville.