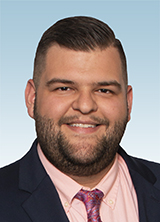 Asheville, NC—Joshua Boyd joins HomeTrust Bank as an Associate Branch Manager in the Weaverville office. He holds responsibility for serving both residential and business customers to help them deepen their banking relationships with HomeTrust, developing the product and job skills associates need to succeed, and providing the best customer service possible.
"I am thrilled to be a part of HomeTrust and the positive effect they have on the community," says Boyd.  "The people at HomeTrust were my biggest influence in joining the bank; they have the highest quality employees and I want to be a part of a team like that. I also want to be a part of the growth and success in the Weaverville market."
Prior to his new job at HomeTrust, Boyd was a personal banker with First Bank throughout the Asheville area, and before that he worked as a teller in North Asheville. His first job was working at the Weaverville Ingles for more than five years.
"Joshua's enthusiasm and impeccable integrity are highly regarded by employees and customers alike," says Dana Dalton, Vice President & Asheville Retail Market Leader. "His prior work experience in the Weaverville market is also a huge asset as he welcomes new and current customers to our branch."
Boyd is married, and he and his wife are enjoying their golden retriever puppy. He also loves fly fishing, working on his family farm, cooking, and watching football. He's the pastor of Laurel Chapel Baptist Church in the Laurel community of Madison County and is involved with West Virginia Rural Missions.