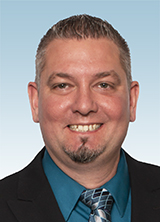 Cary, NC—Joe Randall recently joined HomeTrust Bank as an Assistant Vice President and Branch Manager in Cary at Bradford View Shopping Center. He holds responsibility for managing day-to-day operations of the branch office, developing business to help serve customer needs, continuing community outreach, and promoting the HomeTrust brand in the community. He is also responsible for coaching and mentoring relationship-driven bankers.
"I joined HomeTrust because I wanted to work for a company that worked to help clients achieve their financial goals," says Randall. "It's my passion and desire to help clients succeed personally, professionally, and financially. I want to help HomeTrust stand out as a leader for people in my community, to be the place they turn to when they need financial help."
Randall has more than a decade of banking experience. He was a Capital Bank branch manager for five years before coming to HomeTrust. Prior to that, he was an assistant branch manager at SunTrust for more than four years. He joined the financial industry in 2003 as a personal banker helping customers achieve their financial goals and was soon promoted to management.
"Joe's experience in all aspects of critical branch responsibilities will serve the Cary community well," says Bridget French, Vice President & Retail Market Leader. "His well-honed staff development skills and expertise in banking will help us make sure our customers are ready for what's next in their lives. I look forward to working with him and seeing his passion for helping customers and developing long-term relationships."
Randall attended Apollo College in Phoenix, AZ to become a medical lab technician. He is married with one son. He enjoys cooking, hiking with his two dogs, watching football, and spending time with family and friends. When he's not working, he volunteers by offering financial education through Dorcas Ministries. Randall is a member of the Cary Chamber of Commerce. He attends Hope Community Church in Raleigh and Cary First Baptist Church.