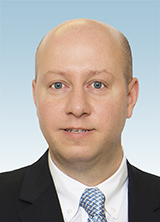 Asheville, NC—Eric M. Wanshop has joined HomeTrust Bank as a Senior Vice President and Director of Loan Review at the bank's Asheville office at 320 Ridgefield Court. He is responsible for providing management and the Board of Directors with objective and timely assessment of the bank's commercial loan portfolio credit quality and credit risk management process.
"This position provides me with an exciting opportunity to develop and implement a comprehensive credit risk function that supports HomeTrust's already sound asset quality," said Wanshop. "It's a pleasure to join this strong, growing community bank."
Wanshop has 20 years of banking experience. Prior to HomeTrust Bank, he worked at Customers Bank in Wyomissing, PA as Co-Managing Director of Credit Review. Before that position, he was a Credit Risk Review Manager at Susquehanna Bank (now BB&T) in Lititz, PA.
A graduate of Shippensburg University of Pennsylvania, he majored in economics. He is also a graduate of the ABA Stonier Graduate School of Banking at the University of Pennsylvania.
"I am very excited to have Eric join the HomeTrust team and welcome him to the Asheville area. His prior experience and leadership with commercial lending and loan review will be a significant asset in support of our growth goals," said Parrish Little, Executive Vice President, Chief Risk Officer, HomeTrust Bank.