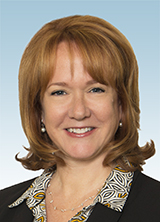 Asheville, NC – HomeTrust Bank has announced the appointment of Elizabeth Bridgers as Senior Vice President/Director of Marketing.
Bridgers will be responsible for all marketing activities, including directing strategic marketing planning and execution of initiatives to drive customer acquisition and retention.
"Elizabeth will bring a fresh perspective to HomeTrust marketing activities through her 25 years of experience in a variety of industries," said Hunter Westbrook, Chief Banking Officer. "She has extensive knowledge of brand management, digital, marketing communications, and the necessity to demonstrate an appropriate ROI—all important attributes for this position. We're excited to have her on our team."
Bridgers has worked for a number of medical-related companies, including Everyday Health, Genova Diagnostics and the American Cancer Society. She also has agency experience working on the accounts of such companies as Marriott, IBM, and Home Depot.
She is a native of the Asheville area (Sylva, NC) and a graduate of Oglethorpe University in Atlanta, Georgia.