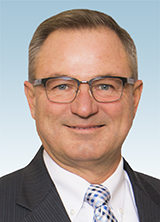 Morristown, TN – HomeTrust Bank has announced the appointment of David E. Slack to the position of Hamblen and Jefferson County Executive. In that position, Slack will be responsible for developing new business, expanding current commercial relationships and assisting with retail services.
"With more than 30 years of banking experience, David brings extensive experience to our team, particularly in the area of commercial services," says Trey Coleman, Regional President for Eastern Tennessee. "His primary duties will be to build on our current commercial relationships and to build business in both the retail and commercial areas in Hamblen and Jefferson Counties.
Slack is a University of Tennessee graduate (1985) and an Army veteran (1985-1988), having attained the rank of Captain as an Intelligence Officer. During his career, he has been involved in numerous community organizations including United Way, the Chamber of Commerce, and Lions Club.