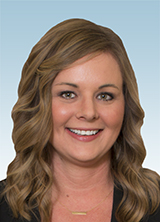 Asheville, NC—Dana Dalton has joined HomeTrust Bank as a Vice President and Retail Market Leader at the bank's Asheville office at 71 North Market Street. She is responsible for growing and developing teams in six markets in and around Asheville, and is also responsible for sales, service, and operations in each market.
"HomeTrust is truly a community bank and I'm passionate about growing and developing people," said Dalton. "I was told in my interview that the bank believes strongly that people bank with people—that really struck me and demonstrated their commitment to community bank values."
Dalton has more than a decade of banking experience. Prior to HomeTrust Bank, she worked at BB&T as a Market Leader IV, working with small business and retail clients and earning Olympian Awards for sales and service. Prior to that she was a Personal Banking Service and Customer Service Rep at M&I Bank.
She is happily married with two small children. She volunteers in her community with United Way, Eliada Homes, and formerly as a Leader for BB&T Lighthouse projects in Buncombe County, working at Emma Elementary and ABCCM.
"Dana's outstanding track record of banking excellence is reason enough to be thrilled she has joined us. Her focus on community and dedication to mentoring her staff are equally as impressive," said Tom Goins, Executive Vice President for HomeTrust's consumer banking group. "We are fortunate to have her join our team and I look forward to the ways she will help ensure our customers receive the best care."