Economic Impact Payments Now Arriving
Americans began receiving stimulus money this week. For eligible citizens who filed a tax return in 2018 or 2019, stimulus payments are deposited directly into the bank account you had on file with the IRS for tax purposes.
Go to the IRS website to provide your updated information if you want to:
confirm your payment type (direct deposit or check)
provide your bank account information for direct deposit
check the status of your payment
If you did not file taxes in 2018 or 2019, you can provide your account information here to request a stimulus payment.
Receiving Your Payment
You will receive your stimulus payments by either direct deposit into your account or by paper check in the mail.
To receive your payment quickly and securely, 
provide your account information to the IRS here
. You will need HomeTrust's routing number and your individual bank account number to register for direct deposit.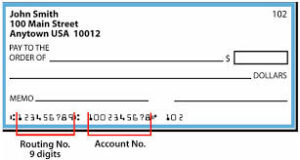 Both numbers can be found on your HomeTrust Bank checks. Your individual account number is the series of numbers following the routing number.
HomeTrust Bank's ABA Routing Number: 253170279
You can also find your individual account number by logging into Personal Online or Mobile Banking.
If you prefer to receive a check in the mail, your check will be mailed to the address the IRS has on file for you based on your most recent tax filing.
When you receive your check, we encourage you to use our Mobile Banking app to deposit your check. If you do not have the mobile app, please download it from your smart phone's app store. You must enroll in online banking to use our mobile app and the mobile deposit feature.
Another alternative is to deposit your check at any HomeTrust drive thru convenient to your location.
Checks deposited by 7:00 P.M. on a business day are considered received that business day.
Checks deposited after 7:00 P.M. or on a non-business day are considered received the next business day.
The first $200 of deposited checks is available the business day on which the check is received.
Remaining funds are available the next business day.