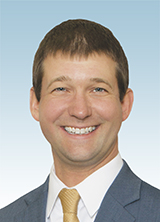 Asheville, NC— Christopher McFatter, Senior Vice President & Director of SBA Lending at HomeTrust Bank, has been named a Coleman 2018 Emerging SBA Lender of the Year. The award was presented at the 11th Annual SBA Secondary Market Summit in Washington, DC.
McFatter was nominated for the honor by Will McClain, Managing Director of Windsor Advantage, a lender service provider for banks and credit unions offering SBA 7(a) and USDA financing. "I nominated Christopher McFatter in acknowledgement of the stellar work he has accomplished building a team of experienced professionals at HomeTrust Bank and their tangible impact to the small business community," says McClain.
McFatter has been with HomeTrust Bank since 2004 and has served the community in various capacities including Commercial Real Estate Relationship Manager, Mortgage Loan Officer, and Commercial Credit Analyst. As Director of SBA Lending, McFatter leads a team of four SBA lenders who provide financing solutions to business owners across the country with loan amounts ranging from $300,000 to $5 million.
The Coleman Professional SBA Lender Awards are presented by Coleman, the leading provider of information to small business bankers. Coleman also produces training for small business bankers and publishes The Coleman Report trade newsletter and two daily email reports.
"I am grateful to be nominated for this award. We have worked hard to build our SBA division and further serve business owners both locally and nationally" said McFatter.