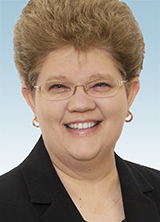 Kingsport, TN—Christina Lewis has joined HomeTrust Bank as Vice President, Business Banking Officer at the branch at 1999 East Stone Drive.  Her areas of focus are small business lending, deposits, and treasury services.  She is responsible for building relationships and delivering financial products and services to small business customers.
Lewis has nearly two decades of banking experience and most recently worked for First Tennessee Bank as Small Business Banking Relationship Manager.  "Lending my expertise to small business owners is my passion," said Lewis.  "I am excited to be on the HomeTrust team and look forward to the challenge."
In 1995, Lewis received a Bachelor of Science in Business Administration from Milligan College in Tennessee.  She completed a two-year banking program at Southeastern School of Banking in 2011.  Developed in cooperation with the American Bankers Association, industry experts from throughout the country, and TSSB's board of trustees, the curriculum incorporates 70 hours of classroom instruction.
Lewis and her husband, Travis, just celebrated their 26th wedding anniversary.  They live in her native town of Elizabethton with their 13- year-old son, Samuel.  Daughter Katherine just finished her second year of college.
"Christina is an excellent addition to our team," said Corey Webb, Market President, HomeTrust Bank Kingsport, TN. "The business banking segment is an important piece of our business and Christina understands how to best meet the needs of this sector."