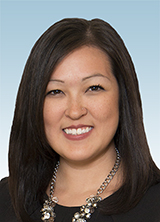 Charlotte, NC—Catherine L. Etemad has joined HomeTrust Bank as a Community Development Mortgage Loan Originator and AVP at the bank's Charlotte office at 100 Queens Road. In her new position, she works with bank leadership and community partners to develop initiatives that focus on CRA and Fair Lending, assisting low and moderate income populations. She also works with agencies focused on providing services to this population.
"Incorporating HomeTrust Bank's long-term commitment to community and home ownership, I'm working hard to help people understand what it takes to own a home by providing information to organizations that serve low and moderate income families. I want to earn these group's trust as a partner of choice," said Etemad.
Etemad has more than a decade of experience in the financial industry, including work as a loan originator at Amerifirst Home Mortgage and serving as a branch manager for large and mid-size regional banks, including Truliant Federal Credit Union. She's a graduate of UNC Charlotte, and volunteers with several animal rescue organizations. Recently married, she and her husband have three four-legged rescue animals.
"We are excited to have Catherine join us in a new role for the bank, Community Development Mortgage Loan Officer.  In this role Catherine will be an advocate for first time homebuyers and help drive financial literacy trainings in partnership with local community groups," said Fred Poore, Vice President, Lending Manager, HomeTrust Bank.