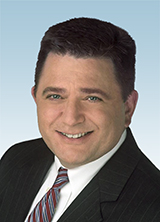 Asheville, N.C., September 25, 2018 – The board of directors of HomeTrust Bancshares, Inc. (NASDAQ: HTBI) ("Company"), the holding company of HomeTrust Bank ("Bank" or  "HTB"), today announced that C. Hunter Westbrook will assume the position of Senior Executive Vice President and Chief Operating Officer of both the Company and the Bank effective October 1, 2018. Mr. Westbrook joined HTB in 2012 as Chief Banking Officer and in his new role will also be responsible for credit administration and information technology departments.
"For the last six years, Hunter and I have worked closely on transitioning HTB to a high performing regional community bank," said Dana Stonestreet, Chairman, President and Chief Executive Officer. "During this time, the Bank has expanded into seven large metro markets across four states, re-invented and added lines of business, and recruited a significant level of high performing talent.  Hunter's contributions have been key to all we have accomplished and I am delighted to continue our work together further enhancing the solutions and services we provide to our customers."
Westbrook said, "I am deeply appreciative of the confidence and trust that Dana and the Board have placed in me, and the opportunity to further establish HTB as a leading regional community bank.  I believe HomeTrust is uniquely positioned to be the bank of choice for both customers and employees. We have reached an inflection point and I am eager to help lead the Bank to the next level of success and profitability."
Westbrook is a graduate of West Virginia University with a Bachelor of Science in Accounting & Business. He earned his Masters of Business Administration from the University of Minnesota's Carlson School of Management. Prior to joining HomeTrust Bank, he served as President and CEO of two community banks, and his primary prior experience was serving for over 20 years in various senior level positions with TCF Bank and its parent, TCF Financial Corporation.