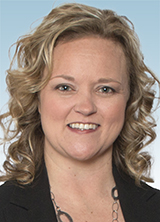 Eden, NC—Bridget French was recently promoted to Vice President and Retail Market Leader at HomeTrust Bank. In this newly-created role, Bridget is responsible for leading and coaching the managers and teams in seven western North Carolina branch locations to build deeper relationships with customers and attract new customers in the area. She also has accountability for sales, service, and operational performance across all segments for these seven offices, including those in Eden and Reidsville.  Bridget will be based in the bank's Eden location at 106 S. Van Buren Road.
French has more than 16 years of banking experience, most of those with HomeTrust Bank. She began her banking career as a teller and was promoted to Sales and Service Associate, Branch Manager, and her new role as Retail Market Leader. In this new position, French will have oversight of seven HomeTrust Bank branches located in: Eden, Reidsville, Lexington, Midway, Martinsville, and two in Danville (North Main Street and Riverside Drive).
She's a member of the Eden Rotary Club, and volunteers with the Junior Achievement of the Triad at Central Elementary School. French is a former board member of the Eden Chamber of Commerce. She is married with three children.
"Bridget brings a wealth of knowledge about the bank, our customers, and our many communities to this new role" said Tom Goins, EVP, Consumer Banking Executive. "She has demonstrated leadership in providing an exceptional customer experience and developing long-term customer relationships.  I am excited to work with her and her teams as we continue to serve Eden, Reidsville and our other communities in the Piedmont and in southern Virginia."