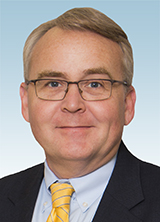 Roanoke, VA – HomeTrust Bank welcomes Brad Vaughan, mortgage loan officer, at the HomeTrust Bank location at 3956 Electric Rd next to K92 in Roanoke, VA. In his new role, Vaughan works with clients to explain the mortgage process, originate mortgage loans, and helps them select the best mortgage option for their needs.
Vaughan has two decades of mortgage expertise in the Roanoke area, including serving clients at Federal Savings Bank, Union Mortgage Group, and First Citizens Bank. A graduate of Ferrum College in Ferrum, VA, Vaughan majored in history.
"Brad has extensive experience in the mortgage banking industry and is a great addition to the HomeTrust team in Roanoke. We are excited to have someone with his experience to assist customers with their homeownership needs within the community," said Kristin Powell, EVP, Director of Mortgage Lending at HomeTrust Bank.