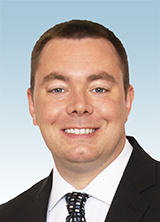 Morristown, TN—Andrew Winstead has been appointed to Associate Branch Manager, HomeTrust Bank at the bank's Morristown office at 120 Evans Avenue.  In this role, Winstead will primarily focus on cultivating long-term banking relationships, enhancing branch performance, and ensuring outstanding customer service.
Winstead has 12 years of banking experience in the Morristown area.  He comes to HomeTrust from ORNL Federal Credit Union.  He has also worked for Jefferson Federal, SunTrust and Capital Bank.
As a native of Morristown, Winstead appreciates that HomeTrust cares about the community.  "Being part of an organization rooted in the future success of my community is a priority to me," said Winstead.  "With HomeTrust, I am ready for what's next."
An alumnus of Morristown Hamblen High School West, Winstead enjoyed playing on the basketball team.  He continued his academic and basketball career with the Senators at Walters State Community College in Morristown.
Winstead and his wife, Ashley, have a 3-year old son, Greyson.  Their newest addition, Grant, is due to arrive this summer.  In his free time, Winstead continues his community investment as a pastor at Sunrise Baptist Church and a volunteer at Daily Bread Community Kitchen and United Way of Hamblen County.
"Andrew understands the banking needs of the people in our area and has proven himself a natural in fostering long-term relationships," said Mary Ruth Whetsel, Morristown Retail Market Leader, HomeTrust Bank.  "We couldn't ask for a better fit for our team."